php[tek] 2015 Tickets are Selling Quickly!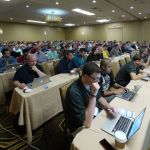 Make sure that you don't delay – we are going to have to set a max attendance this year at php[tek] so that we all fit!
We've announced some amazing keynotes, a schedule full of awesome talks and many more announcements to come.  Check out http://tek.phparch.com/ to read more and pick up your tickets today!
---
Eli has been a PHP coder since the day PHP 4 was released. He's worked for numerous companies in the past, such as Digg.com, Zend Technologies, TripAdvisor, mojoLive, and Goodsie. Though found himself in love with the PHP community so deeply that he ended up here at php[architect], and loves what he does. Conferences, magazine, books, training - Teaching people the love for the language that he himself has.