Day Camp 4 Developers #2: Telecommuting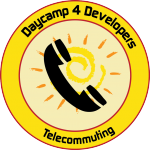 The next Day Camp 4 Developers is just around the corner and I want to hijack php|architect for just a moment to let you know what we have in store.
Day Camp 4 Developers #2: Telecommuting is a 1 day, technology agnostic, on-line conference dedicated to helping developers learn the tools and techniques needed to participate in or manage a distributed team.
We have 5 great speakers and 5 great talks all teaching practical advice that developers need.
Day Camp 4 Developers was created because so many good topics didn't make it into conferences. Good talks, good topics but because they don't deal with hard skills. This isn't a failing of the conferences, they have to pick a wide variety topics that are of interest to a large number of people. Because DC4D is on-line, we don't have nearly the expenses, so we can afford to tackle a single topic and do so in-depth.
For a complete lineup and all the information you need, visit the website daycamp4developers.com. We how to see you there.
When: Saturday, March 5th, 2011
Where: Online (gotomeeting.com)
How much: $35
Website: daycamp4developers.com
---
Cal Evans is a veteran of the browser wars. (BW-I, the big one) He has been programming for more years than he likes to remember but for the past [redacted] years he's been working strictly with PHP, MySQL and their friends. Cal regularly speaks at PHP users groups and conferences, writes articles and wanders the net looking for trouble to cause. He blogs on an "as he feels like it" basis at
Postcards from my life
.
Tags:
Cal Evans
,
day camp 4 developers
,
event
,
on-line