…And the Winners Are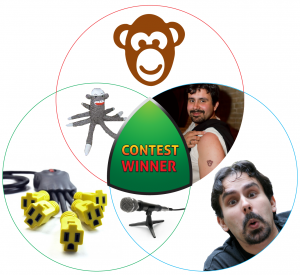 First, thank you to everyone who participated in our scavenger hunt on Friday. It was fun for us, and I hope it was fun for you as well.
If you didn't find the answer and you didn't see the tweet giving it out, the answer was http://phparch.com/powersquid/. Blue Parabola's own Keith Casey singing his own composition, "The Powersquid Song".
The three winners of the contest were as follows:
1st Place – A ticket to php|tek '12
Chris (@dragonmantank) Tankersly
2nd Place – a ticket to an upcoming php|architect Live! Virtual Summit
Russell Sherwood
3rd Place – 3 books from our library
Sean (@sprunka) Prunka
…and the rest – There were 29 correct answers who all win a free year's subscription to php|architect magazine.
Now for some fun facts about the contest.
There were 214 total reasonable answers submitted (a few people just tried guessing random words, we didn't count those).
There were several URLS that were submitted more than others. In no particular order the most common ones were:
The most obscure answer came in very early on in the contest, around 7:17 AM EDT – "Costa Rica". Honestly, we have no idea what to make of that answer.
Overall, it was a fun contest to run, and we hope you had fun playing along. Please make sure and congratulate the winners, and if you can, join us at php|tek '12. We'd love to put a face with the name.
---
Cal Evans is a veteran of the browser wars. (BW-I, the big one) He has been programming for more years than he likes to remember but for the past [redacted] years he's been working strictly with PHP, MySQL and their friends. Cal regularly speaks at PHP users groups and conferences, writes articles and wanders the net looking for trouble to cause. He blogs on an "as he feels like it" basis at
Postcards from my life
.
Tags:
content
,
php|architect magazine
,
tek12
,
winners