php|architect March issue – APIs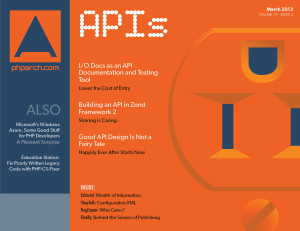 We've focused the March issue on APIs. Including articles from Chris Tankersley, Keith Casey, and Jason McCreary about building good APIs and documenting them. We also have our regular Education Station, Bug Zapper, and (Re)Introducing Magento columns, and much more! Also of note, this is our first magazine produced completely in Markdown instead of our previous custom format, and now includes some updated formatting that we think everyone will enjoy.
---
Eli has been a PHP coder since the day PHP 4 was released. He's worked for numerous companies in the past, such as Digg.com, Zend Technologies, TripAdvisor, mojoLive, and Goodsie. Though found himself in love with the PHP community so deeply that he ended up here at php[architect], and loves what he does. Conferences, magazine, books, training - Teaching people the love for the language that he himself has.