php[architect] for July 2015 : Road Trip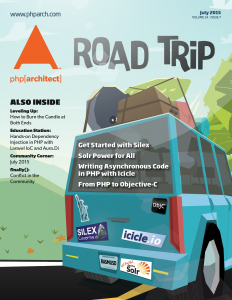 If we learned anything from Chevy Chase movies, its that nothing beats a good, old fashioned family road trip for seeing new sights, bonding with those closest to you, and stock piling stories and anecdotes to recount later. Join us this month in the latest edition of php[architect] magazine as we take our own virtual summer road trip in this issue—with apologies to our readers on the other side of the equator.
---
Eli has been a PHP coder since the day PHP 4 was released. He's worked for numerous companies in the past, such as Digg.com, Zend Technologies, TripAdvisor, mojoLive, and Goodsie. Though found himself in love with the PHP community so deeply that he ended up here at php[architect], and loves what he does. Conferences, magazine, books, training - Teaching people the love for the language that he himself has.