August 2015 Issue of php[architect] : Data Manipulation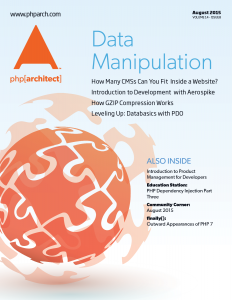 We've released our August 2015 edition of php[architect] magazine today and it's all about Data Manipulation.
Today, the containers that can store data for us are more varied and specialized. They include search indexes, NoSQL databases, and traditional relational databases. At its core, our day-to-day work is mostly unchanged: we take data from one system, process it and send it to another system or output it to a client. In this issue, we look at some tools that can help you with manipulating data.
---
Eli has been a PHP coder since the day PHP 4 was released. He's worked for numerous companies in the past, such as Digg.com, Zend Technologies, TripAdvisor, mojoLive, and Goodsie. Though found himself in love with the PHP community so deeply that he ended up here at php[architect], and loves what he does. Conferences, magazine, books, training - Teaching people the love for the language that he himself has.