php|architect February Issue – Community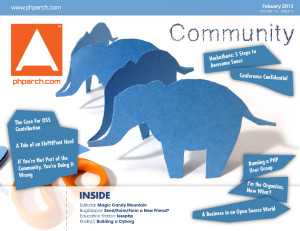 No man or elePHPant is an island, and every developer needs someone to share a beverage with, from time to time. The PHP community is a friendly and welcoming resource, whether you need to fix that bug in your project, expand your skill set, or maybe even land your next job.
Community is the focus of the February issue. To help you get started, we explore why you should get involved and highlight how it can change your life. Andrew Podner explores ways you can contribute to an open source project both with code and otherwise, anchored by his experiences contribution to CodeIgniter. In "A Tale of an ElePHPant Herd", Rafael Dohms shares how the community has shaped his life for the better at different points. Lonnie Brown shares why should get involved and how his own involvement rejuvenated him. The business case for contributing to Open Source is made by Stefan Koopmanschap, who highlights how it can help your bottom line.
We get a candid behind the scenes look at what it takes to put on a conference by Ross Tuck from Ibuilding, the organizers of the Dutch PHP Conference (DPC). When you're at your next conference, Matthew Davis's "Hackathons: 5 Steps to Awesome Sauce" will help you make the most of participating in a hackathon. Both Chris Stone and John Congdon share what they've learned running the Baltimore and San Diego PHP user groups, respectively.
Bart McLeod continues his adventures with Zend Framework 2. In this month's "Bug Zapper" column, he looks at fixing an issue in the Zend\Form\Form component.  Along the way, you'll learn how to work with this important component.Bart McLeod fixes a bug in the ZF2 documentation. You can follow along as he evaluates the bug, tests, and then submits a pull request for his fix in "Fix the Manual". Matthew Setter's "Education Station" shows you how to tame your CSS using lessphp, a tool for treating CSS in a programmatic fashion.
Beth? Oh, she's at yet another conference. In the Editorial, she shares how she's getting more involved in her local user group and advises everyone to find some way to get involved with the PHP community.
Finally{}, Eli shares his advice on what to do when you inherit a code base, and why you need to resist the urge to "Rewrite All the Things!"
---
About the author—