php|tek Call for Papers is Now Open!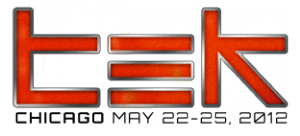 Yes, it's that time of year again, time to put on your thinking caps and propose a talk or three to the php|tek '12 Call for Papers.
As I write this post, I am sitting in the back of the room at one of the CodeWorks '11 stops. I think back to all the friends – new and old – that I've talked to on this tour, and I begin to realize something important. While the PHP community is made up of a bunch of great developers, almost all of them work in more than just PHP. Many develop front-end code in JavaScript. Some work in mobile using Java or Objective-C. Some work with Ruby, Perl and Node.js in additional to PHP. Our professional lives are more complex than can be described by a single community. We are all still members of the PHP community, and I hope we all still identify ourselves as PHP developers, but we are all so much more.
That is what we are looking for at tek '12; we want to know what you are working on and how you are integrating PHP and other technologies to build new things.
Of course, we are looking for good, solid PHP talks; there are always people who want to brush-up on the fundamentals. Integration, though, is what will catch our attention.
So put on your thinking caps and pull the strap tight. Look at what you've worked on in the past 12 months. What have you done to integrate PHP with other technologies? What have you learned that you want to share with others? What have you built that is cool? Answer these questions, and you are well on your way to a winning presentation.
A side note, a lot of people ask me "How can I improve my chances of getting a talk accepted?" I've written on this in the past "Tips on how to get accepted as a speaker at a PHP conference" and all of those points are still valid. I would like to add one that we will call tek specific, because I don't know about how other conferences feel. For tek, submit multiple talks. We try to get each speaker on-stage twice so we not only need a good idea form you, we need two. 🙂 Some people submit as many as eight or nine, I don't necessarily encourage that behavior but give us more than one.
I hope to see you at tek '12!
=C=
---
Cal Evans is a veteran of the browser wars. (BW-I, the big one) He has been programming for more years than he likes to remember but for the past [redacted] years he's been working strictly with PHP, MySQL and their friends. Cal regularly speaks at PHP users groups and conferences, writes articles and wanders the net looking for trouble to cause. He blogs on an "as he feels like it" basis at
Postcards from my life
.
Tags:
call for papers
,
Conference
,
php[tek]