Functional Programming in PHP Book Released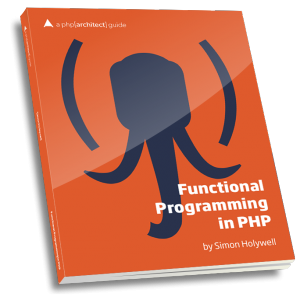 We are excited to announce the availability of our newest book:  Functional Programming in PHP by Simon Holywell.  PHP gained anonymous functions and closures in 5.3, which provided the basis allowing functional programming techniques to be used within PHP itself.  This book is designed to cover all aspects of Functional Programming in PHP and give you the core knowledge of this paradigm.
NOTE: We launched this book yesterday to our mailing list with a special sale of the 1st print run.  Within 12 hours we completely sold out of that print run and are producing more books as we speak!
---
Eli has been a PHP coder since the day PHP 4 was released. He's worked for numerous companies in the past, such as Digg.com, Zend Technologies, TripAdvisor, mojoLive, and Goodsie. Though found himself in love with the PHP community so deeply that he ended up here at php[architect], and loves what he does. Conferences, magazine, books, training - Teaching people the love for the language that he himself has.
Tags:
books
,
Fucntional Programming
,
php