November 2014 php[architect] magazine launched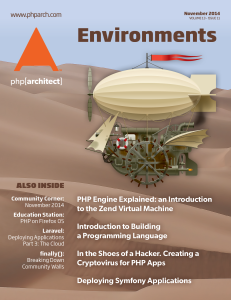 It's that time of month again and the latest edition of our PHP technical journal is out!  This one comes in at a whopping 72 pages crammed full of information about PHP environments. Zend Engine, running PHP on Firefox OS, creating PHP within of JavaScript, Symfony, Laravel and much more!
Check out the full magazine details page to see what else is included, and feel free to download the PHP on FireFox OS article for free!
---
Eli has been a PHP coder since the day PHP 4 was released. He's worked for numerous companies in the past, such as Digg.com, Zend Technologies, TripAdvisor, mojoLive, and Goodsie. Though found himself in love with the PHP community so deeply that he ended up here at php[architect], and loves what he does. Conferences, magazine, books, training - Teaching people the love for the language that he himself has.
Tags:
Firefox OS
,
javascript
,
laravel
,
symfony
,
zend