Eli White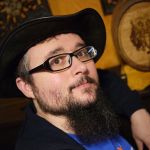 Eli White is a Conference Chair for php[architect] and Vice President of One for All Events, LLC. The day he found the non-greedy modifier in regex was a complete game changer for him.
twitter: @EliW
Articles
As you are reading this magazine, we are in a time of winter holidays and typically associated with a spirit of goodwill towards others. That is embodied often as giving presents to people as a gesture of that goodwill. Unfortunately, this can have the opposite effect at times of causing greed to form as people want more and more given to them. Alternatively, they may misinterpret it as greed, as a specific green haired character learns in his holiday tale.
This month I touch on the sin of sloth in programming. I mean, I don't want to. I want to go flop on the couch and watch some TV and relax. However, I'll avoid the sin itself and manage an article this month.
Continuing our series on the sins of programming, I want to touch on the sin of gluttony in programming. (And no, I don't mean to infer anything about the size of our waists.) Over the years, over decades, we have continued to add layers of complexity to our code, under the auspices of making it easier to understand, or easier to maintain.
Programming is an art, programming is a skill, programming is a job, programming is a lifestyle. With all of that comes joy but also pain. In fact, programming itself can mirror life, and therefore comes with all positive and negative aspects of that. There is a multitude of bad habits that we as programmers can have that end up self-sabotaging ourselves and our code. Today, I want to talk about the sin of pride.
I work from home and making sure that there is a proper work/life balance is essential for mental and physical health. However, with the prevalence of remote work, it's not as easy to separate the two. We gain the benefit of not needing to commute. We obtain the ability to have extremely flexible hours. However, it can be all too easy to slip back into work.
Proportionally fewer people are graduating from college with degrees in computer science & related fields. In 2005 and 2015, there were approximately the same number of Computer Science graduates, but there were overall 31% more college graduates, meaning that the percentage of CS degrees dropped significantly. Why is this happening?
In a way, that title is misleading, because, in the end, this article is going to be primarily about the Microsoft acquisition of GitHub. However, it's a great time to use that as a discussion point of the merits of the various methods of providing software, and how companies choose to get involved with open source as well.
One of the fantastic things about the PHP language is that we, the community, are constantly evolving it. If you take a look at PHP code from just a few years ago, it can appear alien compared to anything written in modern PHP today. In fact, I've often stated that PHP was, in fact, unique among all the programming languages that exist currently. Yes, quite a few of them are open source; however, PHP is the only one truly embracing the open source concept. It is continuously changed, and not by a single gatekeeper but by a broad and vast team of engineers who use the language every day.
Throughout my career, I regularly got frustrated with many managers (and subsequently the companies) for which I worked. This became a recurring theme and led to me bouncing between dozens of jobs over a relatively short period. I could never quite put the finger on exactly what the problem was, but I just kept getting frustrated at not feeling like I had any say in the software that we were creating, nor that I was considered part of "the team."
I'm taking a break in my series of topics on the Seven Deadly Sins of Programming to talk about a positive aspect instead of a negative. The topic of collaboration is an important one to all open source projects in general. I'd love to see the PHP community wholeheartedly embrace it and make a new year's resolution to collaborate more.
As we return to our discussion of the deadly sins of programming, we find ourselves ready to talk about lust. After all, this is February, a month known for that term. Wait, how does lust relate to programming? Well, to get to the bottom of that we need to look at older definitions of lust. Then it often just referred to "intense longing" for anything that you desire.
As programming has continued to evolve, things have gotten a lot more complicated. I mean we've come a long way since the early 80's when I was writing: `10 GOSUB 200` Complexity is good in what it allows us to now do. At the same time, complexity makes it much harder for new developers to enter the ecosystem. It makes it harder in general for developers as their skill set needs to expand wider and wider, instead of focusing on a single task.
All jobs come with a salary, and that salary is usually tied to a simple concept: Supply and Demand. Yes, it's often the case that jobs that pay more, require much more intensive training that whittles out all but the most die-hard people, but that itself is a limiting factor of supply.
I'm usually not one to make resolutions at the start of a New Year. Mostly because I almost immediately would break them all. But I've been thinking a lot lately about upcoming topics in technology and cool things on the horizon. So I want to present a list of things that I will be keeping an eye on and learning more about this year, and suggest that you join me in the process.
We only have two sins left to discuss to complete our series, and this month we'll discuss Envy (saving Wrath for our final installment). Now envy can manifest itself in many different ways in programming, that can impact you, and your code, negatively.
For our final installment of this series, it's time for us to address Wrath in how it relates to programming. Wrath, commonly known as Anger, in the middle ages was considered the opposite of Love. Those who were wrathful had spurned love, choosing to act in rage instead. I saved it for last in this series because it manifests in many different ways in life and code.
If you look at the JavaScript community at the moment, you will find an ecosystem that is exploding with constant innovation. New tools and new frameworks are being created so fast, that the community has begun to make fun of itself for it. It can attract younger programmers eager to be always on the cutting edge of technology, and it is something that PHP is missing at the moment.
I've spent a while now working on my seven deadly sins series of articles, and so it's been a while since we've stepped back to look at PHP itself. Where are we as a language, and as a community?