Posts marked with "google"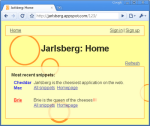 Google Labs, in cooperation with Google Code University, has released a new microblogging tool called Jarlsberg, and like its namesake cheese, it's full of holes. Security holes. Google hopes you use Jarlsberg to learn best practices on how to make your own software more secure.
Do you enjoy programming, puzzles and some friendly competition? If so, you may be interested in registering for this year's Code Jam.