php[architect] Magazine June 2013 – PHP Inside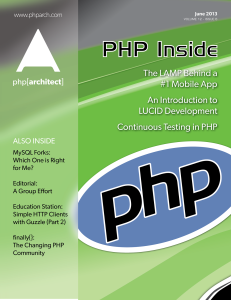 June is upon us, and we've released the next issue of php[architect] magazine. This issue's theme is 'PHP Inside' and features articles on LUCID Development, MySQL Forks, Continuous Testing, and an article discussing the infrastructure behind the API of a mobile app. All of this as well as our regular monthly columns.
This is also now the first magazine to bear the new brand name: php[architect]. Lots of great things to see and read, all available this month in the June 2013 issue of php[architect].
---
About the author—