Check it out, tek 11 schedule is up!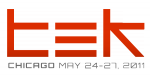 All of us here at php|architect have been working like monkeys (some more like monkeys than others) to get all the details of the tek11 schedule on-line. We are happy to say that everything is now on-line and in place. Now only do we have the schedule page up but now all the author pictures and biographies are up along with complete descriptions of the talks.
tek11 will continue the five year tradition of the PHP community gathering in Chicago to share ideas and inspiration. Last year, a great time was had by all and this year will be no different. Get your ticket today and make sure you are there in May!
---
Cal Evans is a veteran of the browser wars. (BW-I, the big one) He has been programming for more years than he likes to remember but for the past [redacted] years he's been working strictly with PHP, MySQL and their friends. Cal regularly speaks at PHP users groups and conferences, writes articles and wanders the net looking for trouble to cause. He blogs on an "as he feels like it" basis at
Postcards from my life
.
Tags:
community
,
Conference
,
php
,
tek11