The Cloud Couldn't Be Easier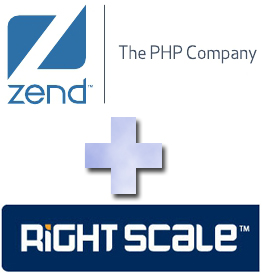 Zend has just announced their latest partnership with RightScale, a leader in cloud computing management, to provide you with a new Platform as a Service (PaaS) offering. This is not just your typical PaaS, though, this will provide a "solution for deploying and managing business-critical PHP applications with high availability, elasticity and portability in the cloud."
What does this mean for your cloud dreams? Fast onboarding for one thing. According to Michael Crandell, the CEO and a founder of RightScale, a typical cloud deployment takes 4-6 weeks, but with RightScale, it is less than 30 minutes to launch an entire cluster, which is an enormous advancement.
Another major benefit is auto-scaling, both up and down. RightScale has a management system that constantly watches what happens on the system, and when load is high enough, it will automatically spin up a new server on Amazon with Zend on top. It then notifies Zend, which deploys your app, and once everything is stable, notifies the load balancer at RightScale to begin use. Done. How long does this process take? According to Zend's Andi Gutmans, this whole process will take less than a minute. Scaling down takes a minute or two longer as open sessions need to be handled gracefully, but all in all, very quickly.
RightScale currently supports Amazon EC2, but will be adding support for Rackspace Cloud and Cloud.com as well.
So how much will this all cost? Kent Mitchell, Director of Product Marketing at Zend, says this will cost about $2400 per month for a typical configuration which will contain 3.1 PHP servers (the .1 server gives you some flexibility for scaling or for creating a temporary dev environment) along with two MySQL Servers, one Zend Server and two load balancing servers. The price goes down if you pay in advance instead of month-to-month, and customized set ups are available based on need with custom pricing. The cost of scaling, both up and down, will also affect the price, but when paying in advance, you create a pool of servers which allows you some flexibility in having more servers one month and fewer another.
To learn more about this new advancement in PHP and cloud computing, there is an upcoming webinar:
Introducing "PaaS in a Box" – Scalable, Flexible, Portable PHP in the Cloud
Thursday, April 28th, 11am PST.
[Update Apr 20, 01:52 to add a clarification about the kind of servers included in the typical configuration.]
---
Elizabeth Tucker Long is the Editor-In-Chief of php[architect] magazine as well as a trainer and occasional guest blogger for php[architect]. She also runs Treeline Design -
http://www.treelinedesign.com
, a web development company, and Playlist Event Music -
http://www.playlisteventmusic.com
, a DJ company, along with her husband, Chris, and son, Liam.
Tags:
cloud
,
php
,
rightscale
,
scaling
,
zend