New Book! Build a website with WordPress and Thesis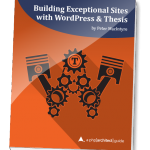 If you need to build a complex, feature-rich website with minimal code and fuss, our latest book Build Exceptional Sites with WordPress & Thesis by Peter MacIntyre will help you from start to finish. This handy reference will guide you in setting up your WordPress environment, configuring your own design and layout using the Thesis theme, and installing plugins to keep your website secure, findable, offer ecommerce, and more.
Read a sample today and pick up your copy.
---
Oscar still remembers downloading an early version of the Apache HTTP server at the end of 1995, and promptly asking "Ok, what's this good for?" He started learning PHP in 2000 and hasn't stopped since. He's worked with Drupal, WordPress, Zend Framework, and bespoke PHP, to name a few. Follow him on
Google+
.
Tags:
books
,
wordpress