Posts marked with "austin"
A knowledgeable developer is a happy developer. Introducing php|architect Live—great training that doesn't break the bank.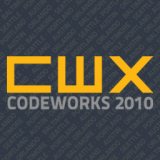 For those of you just joining us, we just wrapped the CodeWorks 2010 Tour. While I've written a recap elsewhere, I wanted to take some time to acknowledge and thank the User Groups.
By popular demand, we have extended the early-bird special for our upcoming CodeWorks tour until Monday, October 4th in order to give everybody an opportunity to sign up for one (or more!) of the tour stops for the low, low, low price of $75 (or even cheaper if you get in with groups of five […]