phpDay 2010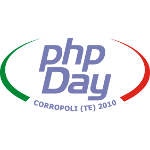 The fourth edition of phpDay, the Italian PHP conference, will be held in Corropoli (TE) between the 13th and 15th of May. In spite of its name, the conference has grown from the original one-day format to the current three-day one.
This year's main topic at phpDay will be Quality Assurance in PHP. However, the scheduled talks and workshops range from Agile and Extreme Programming practices to emerging technologies in the PHP landscape, for the joy of hands-on developers.
Although it is a conference based in Italy, phpDay 2010 is fundamentally an international event. While the first day is focused on workshops, the central day (May 14th) features a variety of English talks both on methodology topics and technical ones such as Flex integration in PHP and development for the cloud computing platform Windows Azure.
Furthermore, some well-known personalities from the PHP community will be in Italy to give their talks. Fabien Potencier, Sensio's CEO and project leader of the symfony framework, is probably the most famous guest and will give a presentation on Dependency Injection in PHP. Other notable speakers are Dustin Whittle, evangelist for Yahoo! Open Strategy that will report about the PHP platform built at Yahoo!; Mihai Corlan from Adobe who will talk about the combination of Flex on client and PHP on the server for web applications; and PEAR's president David Coallier with his talks on RESTful APIs and data storage on the cloud.
The choice of a small city for the location lessened the overall costs and made possible to bring these speakers to Italy: the organizer, GrUSP, is a non-profit organization managed by Italian PHP programmers. Of course, the tickets are less expensive in respect to larger conferences, but the quality of the event is testified by the list of sponsors, which comprehends Zend, Microsoft and Yahoo! Developer Network.
Conferences are an opportunity for time-effective, intensive learning but also networking events where you can meet some of the people that really make the PHP world go around. The location also opens the possibility to try real espresso and pizza in their Italian reference implementation: you're still in time to register for phpDay 2010.
---
Marco is the keeper of keys and Chief Garbage Collector at Blue Parabola. He can be found on Twitter as
@mtabini
.
Tags:
community
,
Conference
,
Fabien Potencier
,
Italy
,
php