php[tek] 2015 Early Bird Ends Soon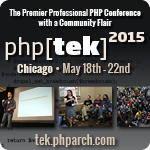 Don't forget and miss out on up to $200 of savings!  The Early Bird Sale for php[tek] 2015 ends promptly on February 15th!
http://tek.phparch.com/pricing-and-registration/
---
Eli has been a PHP coder since the day PHP 4 was released. He's worked for numerous companies in the past, such as Digg.com, Zend Technologies, TripAdvisor, mojoLive, and Goodsie. Though found himself in love with the PHP community so deeply that he ended up here at php[architect], and loves what he does. Conferences, magazine, books, training - Teaching people the love for the language that he himself has.