Oh now, did we sneak iPods and iPads in our new training promo?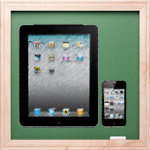 It's time to officially kick off our 2011 training season with a bunch of new classes and a great new promo. Plus, we're reintroducing our credit system which allows you to save even more and get some nice special swag in the process.
Did we say new classes?
Oh, yes, we did. We're launching three new classes this quarter and are getting ready to introduce even more brand new courses through the rest of 2011; we're also continuing to revise all our existing courses to ensure that they are up-to-date and on par with the most recent developments.
Right now, we're introducing these new courses:
Essential MySQL provides a thorough introduction to good database programming practices, with a focus on MySQL. Learn how to properly design, query and optimize your databases—a perfect companion to our Essential PHP class.
Professional Zend Framework picks up where our Essential Zend Framework leaves off, with a slew of great information on the more advanced aspects of Zend Framework. A must if you want to take ZF to the next level.
Professional Flex and PHP Development extends our very popular Essential Flex course for even more great knowledge on building RIAs using Adobe's popular platform.
Discounts? We got discounts!
We are also reintroducing our popular credit system, with a much simplified structure and better pricing. You can buy credits in blocks of 1, 2, 6 or 10 for a maximum discount of 25 percent over our regular training rates. Credits are good for one year and can be transferred to other users—a perfect way to make our training a painless, fun and very useful perk for all the members of your team and save a bunch in the process.
For the first time, we are also introducing an unlimited training option. This package allows a user to take as many courses as he or she likes during the year. The only limitation is that the pass is non-transferable, non-refundable and the user cannot sign up for two courses that take place simultaneously.
And now, for those iPods and iPads…
We feel so good about our 2011 training program that we've decided to bring our popular iPod promotion back. Except, we're throwing some iPads into the mix, too.
The promotion is simple enough: buy two, six or ten credits, and we'll put an iPod nano, a 32GB iPod touch or 2 32GB iPod touch in the mail for you. Get the unlimited package, and you will soon be enjoying a brand-new 32GB Wi-Fi + 3G iPad.
Head on over to our redesigned training page for more information, rules and conditions… and maybe grab some credits for yourself today!
---
Marco is the keeper of keys and Chief Garbage Collector at Blue Parabola. He can be found on Twitter as
@mtabini
.
Tags:
courses
,
credits
,
discounts
,
iPad
,
ipod
,
training