php|architect's 2012 Impact Awards
Last updated: February 23, 2012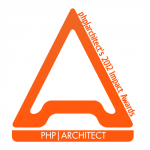 Welcome to the 2012 Impact Awards!
The Impact Awards are php|architect's way of recognizing projects that have had a significant impact on the PHP world in the past year. We have picked a brand new batch of projects and product for our 2012 edition!
Ready to vote? Click here.
Categories and Nominees
For this year's awards, we have picked twelve finalists, divided into three different categories (plus a best-overall category):
Up & Coming
Best Cloud Platform
Best PHP Application Platform

joind.in
PHP Depend
PintLabs
ThinkUp

AppFog
Orchestra
Pagoda Box
Zend PHP Cloud

Drupal 7
SilverStripe
SugarCRM
WordPress 3
About the Award
Designed by Toronto-based architect Alex Ilievski, each Impact Award is made of solid, high-reflection crystal and is approximately 15cm high.