Eric Van Johnson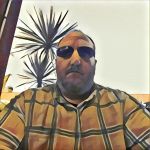 Eric Van Johnson is the CTO of DiegoDev Group, LLC. A group of passionate and talented frontend, backend, and mobile developers that strive to provide outstanding services. He is also one of the organizers of San Diego PHP (SDPHP), his local user group, and a podcaster. In the early '80s while Eric's friends were getting Atari 2600 or Intellivision gaming consoles, his Dad bought him a TRS-80 Coco with BASIC. Eric started teaching himself coding and never looked back. A husband, father, and enjoyer of scotch and baseball. He had to give up playing baseball because he kept spilling his scotch while trying to run the bases.
twitter: @shocm
Articles
It started off simple enough, a friend in school ask Andreas if he could help him write a piece of software. Andreas himself wasn't an aspiring programmer; he has was an avid district forester. However, he had done some small projects in the past for the Apple platform using FileMaker. This project needed to be different, and it needed to be cross-platform. Andres remembers reading about a web technology called PHP paired with MySQL and thought, "It can't be that complicated. Can it?"
Published in PHP 8 Bits and Git, December 2020
With it being so difficult to hang out with friends or go to a meetup, podcasts are a great solution to stay plugged in and current on what is going on in the development world. There is a wide range of subject matters for podcasts, but I focused on PHP podcasts and some other general Development podcasts for this article.
Published in SOLID Foundations, November 2020 —Available for Free
"If you are looking for a development community and when you look around, if you don't find one, congratulations, you are now the organizer of your new development community." These were the (paraphrased) wise words spoken by one Cal Evans ( @calevans). This advice inspired John Congdon to reboot my local PHP User Group in San Diego. It's also the action that was taken by this month's interviewee, Zuzana Kunckova, when she looked around for a development community she wanted to belong to. Zuzana's twitter announcement was straightforward and said it all.
Published in Running Parallel, October 2020
Part three concludes my interview with the PHP 8 Release Managers about PHP Internals. We touch on getting started contributing to internals via RFCs, becoming release managers, the commitment required by that role, and how the project's release cycles have evolved.
Published in Under the Scope, September 2020 —Available for Free
In part two, I continue chatting with the PHP 8 Release Managers about PHP Internals, preparing a new release, the evolution of the language, and where it might go in the future.
Published in Data Discipline, August 2020
I've been contributing to Community Corner for a few months, so you would know by now that I am not a journalist and that I love PHP. I love coding with it, talking to people about it, and meeting new people involved with it. I've had the opportunity to speak with a lot of fantastic people, from Community Organizers to Internals contributors, but this month is probably the highlight for me as I sat down to speak with Sara Golemon and Gabriel Caruso, the two Release Managers of PHP 8.0.
Published in Warp Driven Development, July 2020
This month, we take a moment to speak with—well technically email with—a member of the PHP community. We are very fortunate to have a community filled with people who care about making PHP stronger. Today we speak with Derick Rethans (@derickr), author, conference speaker, PHP 7.4 Release Manager, host of the PHP Internal News Podcast, and the creator/maintainer of Xdebug.
Published in Advanced Design & Development, June 2020
This month, we revisit our Canadian friends, this time we travel north of Toronto, Canada, to the York Region of Canada and the You Region PHP User Group.
Published in Unsupervised Learning, May 2020
This month, we travel halfway around the world, well at least I do; this might be right around the corner for you. This month we find ourselves in the land down under, where women glow, and men plunder, well that's how the song goes anyways, Adelaide, Australia.
Published in Machine Learning and OpenAPI, April 2020
Within Texas, is the beautiful city of Austin. One of the fastest-growing cities in the United States and the State Capital of Texas. Austin has caught the eye of more than cowboys and musicians. It's caught the eye of tech with several Fortune 500 companies establishing a presence in Austin. Logan has taken the time to write up a profile for AustinPHP, and I would like to share that with you. Logan Lindquist wrote the following article.
Published in How Magento is Evolving, March 2020
This month, in our little community corner, we travel back to Canada, Toronto, more specifically. This city sports a population of over 5.6 million people who speak over 180 languages and offices of some of technology's heaviest hitters such as IBM, Microsoft, Oracle, Facebook, Twitter, and Google.
Published in Cultivating the Developer Experience, February 2020
If you've never been to the deserts of Arizona here in the U.S., you may think it's a desolate and harsh land. Perhaps you envision Mad Max-style cars driving around looking for fuel and water. Maybe you think of the old Spaghetti Western, dusty small and disconnected towns, where strangers are not welcome. Nothing could be further from the truth
Published in New Habits, January 2020
For our next stop on our tour of user groups, we travel to the Great White North of Vancouver, British Columbia, Canada. Vancouver is often listed as a top city to live for quality of life, and it's one of Canada's densest and most ethnically diverse cities. Over recent years, Vancouver has gotten the tag of Hollywood North, becoming home to many top film productions.
Published in Expedition PHP, December 2019
You might recognize me as one of the contributors to the php; if you're not familiar, it's a great companion to the magazine and the community of PHP podcasts! I've been a subscriber to the php[architect] magazine since 2003, so I was thrilled when Oscar Merida asked me if I would be interested in contributing to Community Corner. I am going to take a little different approach to the Community Corner and focus on the various user groups, who they are, and the awesome people running them.
Published in Object Orientation, November 2019