Joe Ferguson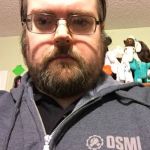 Joe Ferguson is a PHP developer and community organizer. He is involved with many different technology related initiatives in Memphis including the Memphis PHP User group. He's been married to his extremely supportive and amazing wife for a really long time and she turned him into a crazy cat man. They live in the Memphis suburbs with their two cats.
twitter: @JoePFerguson
Articles
Over the past two months we've been building PHP Easy Math a purposely simple example library to demonstrate how to build a reusable package for the PHP ecosystem. Make sure to check the previous issues if you're just now joining us! This article is the third and final installment in this series. We're going to cover triaging and managing issues users may open as well as pull requests to your library.
Last month we started building PHP Easy Math, a small library which can be included in PHP projects to provide simple methods to do basic addition and subtraction. We're using this as an example library to focus on what makes a library "good" we are less worried about the practical need for and usage of our package. In this part, we look at why you should provide a license and good documentation for your package.
PHP developers can now easily share their code for others to use. You can also easily bundle your application's domain logic into a package to share between multiple projects. This month we are diving into creating PHP packages and ensuring our packages are held to a high standard of having tests, license information, and other best practices for creating and maintaining high-quality PHP packages.
This month we're covering a full-featured unit and Behavior-Driven Development (BDD) test framework named Kahlan. Kahlan is similar to RSpec (Ruby) and JSpec (Java) using BDD style syntax where you describe the behavior your application should have.
This month we're going to dive into PhpStorm and cover configuration from personal preferences to obeying standards and day to day usage. We'll see how to use the features of an IDE to improve your productivity and the quality of your code.
Last month we covered the basics of CakePHP and how to get started creating routes, controllers, database tables, and retrieving data. This month we're going to dive into returning HTML views, as well as creating and validating forms to create new widgets.
Welcome to the first installment of The Workshop, a column where we try out new tools and techniques to hone our craft. We'll be covering frameworks, packages, tools, and exploring topics related to the PHP development ecosystem. This month we're going to jump into CakePHP. CakePHP has recently released version 3.6 of their full stack framework.
This month I'm running with a collection of odds and ends of Laravel which I feel strongly about or that answer some common questions about Laravel and the related ecosystem. I find these issues to be common among people who ask me about Laravel on social media or in person at conferences or user group meetups.
Authentication is the foundation of your application's security. Authentication separates guests from users and restricts functionality in your application to authenticated users. We can also take authentication a step further and completely offload the grunt work to some other service such a GitHub, Google, or any other third party authentication service provider.