Beth Tucker Long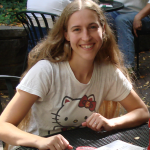 Beth Tucker Long is a PHP developer and co-organizer of Madison PHP. Beth is a firm believer in promoting community and mentoring. She runs Treeline Design, a web development company, and Exploricon, a gaming convention, along with her husband, Chris. You can find her on her blog http://www.alittleofboth.com and on Twitter
twitter: @e3BethT
Web site: http://www.alittleofboth.com
Articles
The more some things change, the more some things stay the same—especially when you are a PHP developer. Being a developer is an exciting, stressful, exhausting, invigorating thing. With technologies constantly evolving, our job is as much about learning as it is about building and fixing.
Published in Newfangled Views, January 2021
As programmers, it is our job to build. We create things. We modify them. We fix bugs. We solve problems. We fill needs. Maybe it's time to start applying this to something a bit bigger than just our codebase.
Published in PHP 8 Bits and Git, December 2020
Is your workload filled with looming deadlines and minimum viable products? Is the focus on pivoting quickly and allowing user complaints to drive feature development? Are we exhausting our customers? Are we exhausting ourselves?
Published in SOLID Foundations, November 2020
Our day-to-day used to be full of needing to get to physical locations in person at specific times, but just like programming, we are becoming more and more asynchronous.
Published in Running Parallel, October 2020
Accessibility is a broad concept that covers many ideas and requirements, and your project needs accessibility for many varied reasons. Perhaps you are required to comply with accessibility laws and regulations. Perhaps you have existing users complaining that your services are difficult to use. Maybe you are looking to attract a larger, more diverse audience or are just interested in making sure your website works for all people. No matter your reasons for starting, improving accessibility is about increasing the number of people who can use your site or app, and that's a good thing for everyone.
Published in Out on a Limb – February 2019, February 2019