Beth Tucker Long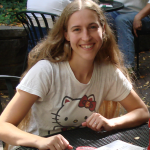 Beth Tucker Long is a PHP developer and co-organizer of Madison PHP. Beth is a firm believer in promoting community and mentoring. She runs Treeline Design, a web development company, and Exploricon, a gaming convention, along with her husband, Chris. You can find her on her blog http://www.alittleofboth.com and on Twitter
twitter: @e3BethT
Web site: http://www.alittleofboth.com
Articles
Deep in a wild, overgrown forest, a lone developer studies an ancient map carefully. Checking a compass against the angle of the sun and the moss on the trees, this exhausted programmer pushes on, finally making it to the entrance of the long-forgotten cave. Inside on a dusty stone pedestal waits the sought-after artifact—the rubber ducky!
Published in Decrypting Cryptography, October 2021
Here we are, the season for students to say goodbye to break and head back to school. For those of you without children, this is why the office supplies areas of most stores have been looking like post-apocalyptic movie sets with a few broken packages on ransacked shelves and a few hollow-eyed clerks left staring vacantly at the mess. I hope none of you needed crayons. They are going for big bucks on the black market right now.
Published in It's Really an Upgrade, September 2021
Sometimes you need something tried and true, and sometimes you need to escape the daily grind and try something new.
Published in Trimming One's Sails, August 2021 —Available for Free
Recent times have been anything but expected. The community landscape is vastly different from it was two years ago. Where do we go from here?
Published in Deep Dive Into Search, July 2021
Every technology has its share of haters. Disagreements in coding philosophies become language wars. Differences in project priorities become personal attacks. It's vicious. It's demoralizing. Why would anyone stay in an environment like this?
Published in Debug, Rinse, Repeat, June 2021
When we talk about long-term planning for our code, we often mean making sure that it can handle increases in traffic as usage increases (if we are lucky). We also usually mean making sure the code is flexible enough to handle the new technology and client requests inevitably coming its way. These are great things to plan for, but we leave ourselves open to a lot of risk when this is all we plan for.
Published in Testing Assumptions, May 2021
Thanks to the pandemic, doomsday prepping has gone mainstream. Many think this is a new philosophy that is gaining popularity, but it has long been at the heart of the tech world.
Published in Busy Worker Bees, April 2021
I've been doing web programming for over 20 years, most of that as a consultant, so I have worked on countless different environments over the years. I pride myself on following best practices and building applications ready to hold up for a long life. I always want to do things right, but over and over again, I learn that right is not always what is best.
Published in Lambda PHP, March 2021
In years past, scientists had to draw conclusions from whatever small data they could procure themselves. Advancements in data collection, storage, and analysis have revolutionized the data sets now available to scientists—and also you and me.
Published in Dealing with Data, February 2021
The more some things change, the more some things stay the same—especially when you are a PHP developer. Being a developer is an exciting, stressful, exhausting, invigorating thing. With technologies constantly evolving, our job is as much about learning as it is about building and fixing.
Published in Newfangled Views, January 2021
As programmers, it is our job to build. We create things. We modify them. We fix bugs. We solve problems. We fill needs. Maybe it's time to start applying this to something a bit bigger than just our codebase.
Published in PHP 8 Bits and Git, December 2020
Is your workload filled with looming deadlines and minimum viable products? Is the focus on pivoting quickly and allowing user complaints to drive feature development? Are we exhausting our customers? Are we exhausting ourselves?
Published in SOLID Foundations, November 2020
Our day-to-day used to be full of needing to get to physical locations in person at specific times, but just like programming, we are becoming more and more asynchronous.
Published in Running Parallel, October 2020
Accessibility is a broad concept that covers many ideas and requirements, and your project needs accessibility for many varied reasons. Perhaps you are required to comply with accessibility laws and regulations. Perhaps you have existing users complaining that your services are difficult to use. Maybe you are looking to attract a larger, more diverse audience or are just interested in making sure your website works for all people. No matter your reasons for starting, improving accessibility is about increasing the number of people who can use your site or app, and that's a good thing for everyone.
Published in Out on a Limb – February 2019, February 2019